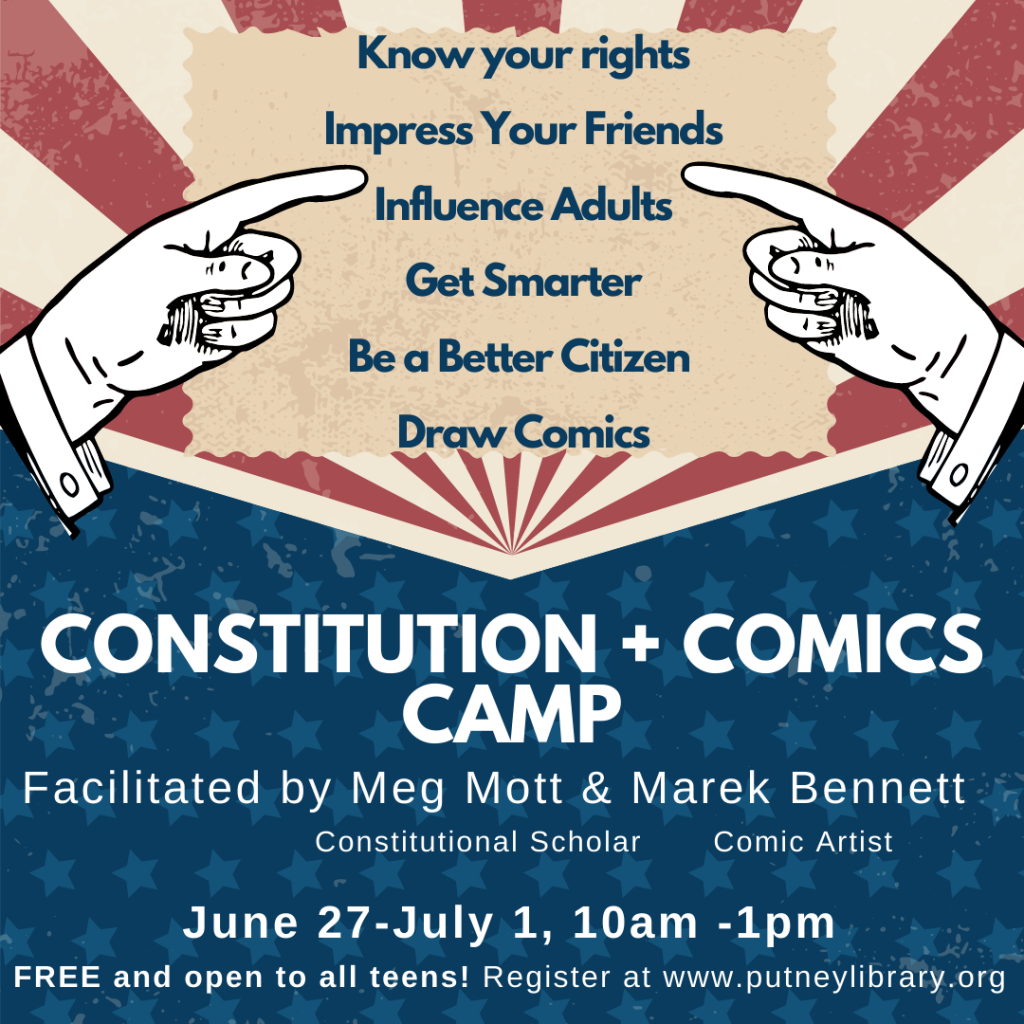 REGISTER HERE:
https://docs.google.com/forms/d/e/1FAIpQLSe6trf9wcOomODbASy1LfsGNQgDZNJd7JNrS4XMiFwAzhhgrQ/viewform?embedded=true
Join us for Constitution + Comics Camp where we will read and debate excerpts from the US Constitution and Bill of Rights, the Vermont Constitution, Supreme Court decisions, as well as graphic novels with historical and constitutional themes. We will then draw our own constitution comics and debate the issues in the context of 21st century schooling. Some of the topics we will dig into:
What privacy rights do students have inside of school?
Should schools be able to search student lockers? What about backpacks?
By the end of the week, you'll be able to cite Supreme Court cases, explore counter-arguments, and illustrate your basic rights through comics. Do you know what your privacy rights look like? Draw them and you won't forget them.
Constitution camp is led by: Meg Mott PhD, a former professor and constitutional scholar who successfully led our Free Speech for Teens Camp in the summer of 2021 and has developed a series, Debating Our Rights, on the first ten amendments that brings civil discussions on contentious issues to public libraries and colleges. Her opinions on Title IX have been published in Inside Higher Ed, Washington Post, aired on NEPR, and lauded on Breitbart.
Marek Bennett is a comics artist and a 2021 New Hampshire Governor's Award for Arts in Education recipient and leads discovery-based Comics Workshops for all ages throughout New England and the world beyond. His comics work includes the graphic novel series, The Civil War Diary of Freeman Colby, as well as drawing, translating, & editing for The Most Costly Journey (2021) with the bilingual El Viaje Project.