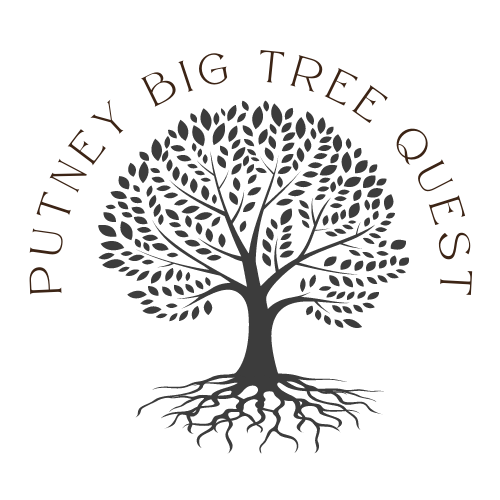 Putney Big Tree Quest 2022 Slide Show
September 15 – November 1, 2022
Putney Big Tree Quest launch event: Monday, Sept. 12, 6-7 pm, Putney Public Library
Putney Big Tree Quest wrap-up event: Tues, Nov. 15, 3:30-4:30 pm, Putney Public Library
American Elm – Apple – Basswood – Beech – Big-toothed Aspen – Bitternut Hickory
Black Birch – Black Locust – Black Walnut – Black Cherry – Butternut – Cottonwood
Gray Birch – Hemlock – Hop-hornbeam – Hornbeam (Musclewood) – Poplar – Red Maple
Red Oak – Red Pine – Red Spruce – Shagbark Hickory – Silver Maple – Striped Maple
Sugar Maple – Sycamore – Tamarack – White Ash – White Birch – White Oak
White Pine – Yellow Birch – Other
LEARN HOW TO IDENTIFY THE TREES OF PUTNEY!
PRIZE CATEGORIES
TREE SIZE: submit tree circumference Grand Champion – tree with largest circumference

Top Five Species Champions – the next top five species champions
CREATIVE: submit photo or text
Best Tree Pose – more points for imitating or otherwise enhancing the gesture!
Best Tree Face Superhost – largest number of species observed and documented on one tree
TreeTrek – longest (or most interesting) single-day human powered tree discovery expedition
Tree Art – Submit (a photo of) a piece of artwork (any medium) that features tree(s) as a theme
How to Participate
Measure the circumference of the tree (a level line around the trunk) at 4.5 feet off the ground. Find
Submit your entry (or entries) any of these 3 ways.
Follow the artful tree submission updates at the library, and through posts on the library Facebook page.
Facebook event: https://www.facebook.com/events/427222386175703Sign up on the Forest for Learning website: https://www.putneyforestforlearning.org/event-details/f4l-big-tree-wander
By submitting an entry you give permission for your entry to be shared, unless you indicate otherwise.
We welcome submission from those in the Putney area.
Questions? Contact Evie Lovett + Paul Levasseur,
putneybigtree@gmail.com